Adult Hockey Leagues
We have a variety of adult hockey leagues at Griff's Georgetown, including men's and women's leagues, roller hockey leagues, co-ed and more.
Leagues Offered
Men's League – Wednesday Nights (Advanced)
Women's League – Sunday Nights
Monday Night – Beginner/Intermediate
Friday Night – Intermediate League
Roller Hockey League – Spring/Summer Only
Men's League – Sunday Night NDHL (Private League
Have questions about an adult league? Contact manager@griffsgeorgetown.com.

Wondering How Recreational Hockey Leagues are Tiered?
Check out the article here to learn more!
Hockey Camps & Skating Lessons
Adult Learn To Play Hockey
6 session program for adults who would like to learn the fundamentals of playing hockey instructed by Hydro 32 training Coach Jason Dusendang. During the 6 sessions, you will receive 50 minutes of on-ice instruction to introduce you to the game of hockey, whether you're trying to keep up with your kids who love the game, trying something new for exercise, or have a goal to join the local adult hockey leagues. Skills you will learn include: skating, shooting, stick handling, fundamentals of team play, fundamentals of gameplay, and much more. All participants must have a helmet and a hockey jersey. Other hockey protective gear is highly recommended as there will be gameplay. In addition to a helmet, we recommend hockey gloves, shin guards, padded pants, and elbow pads.
Cost: $180
Where: Griffs Georgetown
When: 7:00 pm – 7:50 pm
July 14, 2022
July 21, 2022
July 28, 2022
August 4, 2022
August 11, 2022
August 18, 2022
Performance Skate Camp (Youth)
6 weeks of 50-minute on-ice performance skate camps.
50 minutes of performance skate camp focused on edge control and situational game shooting, and stick handling.
The objective is to create a player who better understands their balance and edge control and create players who know what to look for and how to execute their performance in game-type situations.
We will have two different skates by level. However, some of the 2010-2013 could be invited to skate with the 2008/2009 based on their skills and abilities.
Cost: $180
Where: Griffs Georgetown
When: 6:00 pm – 6:50 pm
TUESDAY (2010-2013 birth years)
July 12, 2022
July 19, 2022
July 26, 2022
August 2, 2022
August 9, 2022
August 16, 2022
THURSDAY (2008-2009 birth years)
July 14, 2022
July 21, 2022
July 28, 2022
August 4, 2022
August 11, 2022
August 18, 2022
Please use the form to sign up for session 2 of the 6-week performance skate camps: https://forms.gle/1FMtPAQvW25YkoAT7
Grandville High School & Middle School Camp
Email coach Joel Breazeale for information: jmbhockey@sbcglobal.net
Hudsonville Hockey Camp
Grades 1st through 8th
A great opportunity to fine tune your skills. One hour on-ice instruction and one hour off-ice. Camp will include drills to increase speed, stamina, puck handling, small games, and many other areas. Beginners to advanced players welcome. All mandatory ice hockey equipment required. Kids will be divided into groups by skill level.
When: June 13th-16th
Where: 4800 Bauer Rd.
Cost: $125 (includes t-shirt)
Instructors: Varsity Coaches & HHS Players
Times: 4 p.m. – 6 p.m.
Days: Monday through Thursday
Dates: June 13 – 16
Deadline: June 10
Register by June 5 to be guaranteed a t-shirt
Registration can be found at Hudsonville Community Ed Page: https://commed01.hudsonville.k12.mi.us/CourseActivities.aspx?id=19&cat=1
Blueliners School of Defense
More information can be found here: https://bluelinersschoolofdefense.com/
Grand Valley Stars Checking Camp
When: August 15th and 16th, and August 22nd and 23rd
Days: Mondays and Tuesdays
Off Ice: 4:00p.m.
On Ice: 5:00pm – 5:50pm
Intro to Hockey and Youth Hockey – Grand Valley Stars
Learn to Skate, Intro to Hockey and Youth Hockey are run through Grand Valley Stars.
Program details can be found at gvaha.org.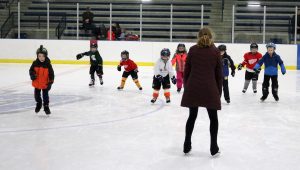 Laura Stamm Power Skating
Learn more at https://www.laurastamm.net/