Adult Hockey Leagues
We have a variety of adult hockey leagues at Griff's Georgetown, including men's and women's leagues, roller hockey leagues, co-ed and more.
Leagues Offered:
Men's League – Wednesday Nights (Advanced)
Women's League – Sunday Nights
Monday Night – Beginner/Intermediate
Friday Night – Intermediate League
Roller Hockey League – Spring/Summer Only
Sunday Night – Beginner League
Have questions about an adult league? Contact manager@griffsgeorgetown.com.

Wondering How Recreational Hockey Leagues are Tiered?
Check out the article here to learn more!
Hockey Camps & Skating Lessons
Adult Learn To Play Hockey
Check back for upcoming dates.
Grandville High School & Middle School Camp
Email coach Joel Breazeale for information: jmbhockey@sbcglobal.net
Hudsonville Hockey Camp
Grades 1st through 8th
A great opportunity to fine tune your skills. One hour on-ice instruction and one hour off-ice. Camp will include drills to increase speed, stamina, puck handling, small games, and many other areas. Beginners to advanced players welcome. All mandatory ice hockey equipment required. Kids will be divided into groups by skill level.
Registration can be found at Hudsonville Community Ed Page: https://commed01.hudsonville.k12.mi.us/CourseActivities.aspx?id=19&cat=1
Blueliners School of Defense
More information can be found here: https://bluelinersschoolofdefense.com/
Grand Valley Stars Checking Camp
Check back for summer 2023 dates
Intro to Hockey and Youth Hockey – Grand Valley Stars
Learn to Skate, Intro to Hockey and Youth Hockey are run through Grand Valley Stars.
Check back for summer 2023 dates here gvaha.org.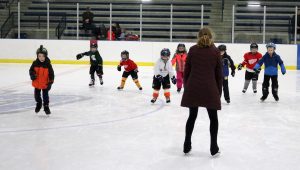 Laura Stamm Power Skating
Learn more at https://www.laurastamm.net/
March 17-19, 2023