Learn to skate with the Grand Valley STARS at Griff's Georgetown!
2021-2022 SESSIONS
Saturdays 9:00-9:50 am
Session 1 :$165 -October 2-December 18 (no skate Oct 16 and Nov 6 ) *10 sessions
Session 2: $150 January 8-March 5 *9 sessions
Session 3: $135 March 12-April 30 *8 sessions
*date changes may occur due to other events scheduled at the rink. If this occurs, dates will be updated and shared.

AGES 4 AND UP
The first step to playing hockey is learning to skate. We help your child get comfortable on the ice with fun stations. Skills apply to figure skating and hockey.
LEARN THE FUNDAMENTALS:
balance, bend, march, how to get up, stride, agility, glide and more!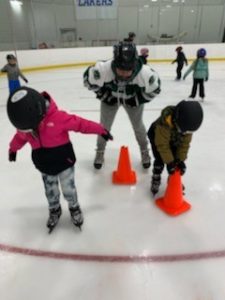 WHAT TO WEAR:
Helmets are Required and Skate Rental is Free
We recommend:
Gloves and Thin Socks
Snowpants or Hockey Pants
To Register and Learn More, please visit the Grand Valley STARS website.